STINT index both measures and enhances internationalisation
A way of both understanding and explaining the internationalisation of higher education and research. This is how Dr. Hans Pohl, developer of STINT's Internationalisation Index, describes the index which is now being used for the fifth year.
Dr. Pohl started as a programme manager at STINT nine years ago. Right from the start, he and the board were trying to find a way to measure how internationalised Swedish higher education institutions (HEIs) actually are. Developing STINT's Internationalisation Index took around four years. The Index measures six aspects, including research, student mobility, and the international academic experience of staff members. HEIs are awarded up to five stars, depending on their results in the different aspects.
"The basic question was simply 'Can internationalisation be measured?' Developing the Index required a lot of time and thought from me and the board, but I think we have succeeded. This is a way of both understanding and explaining internationalisation – for us and for the wider world," says Dr. Pohl.
STINT Internationalisation Index was launched in 2016. At the time, STINT feared that it would be criticised, but instead HEIs praised the initiative. Results were presented for the fifth time in the spring of 2020, and the same aspects are still being measured.
"This ensures comparability across years, which is a great benefit of the Index. Generally, we have seen improvements at individual HEIs but also across the board."
Dr. Pohl emphasises that this is an index and not a ranking: absolute values are measured, not relative ones. Each of the current 28 HEIs can therefore clearly see its own development. This also means that all HEIs theoretically could be awarded five stars, but the last years the same three HEIs had achieved five stars. However, Hans Pohl is not worried about stagnation.
"If the same HEIs are awarded five stars each year, we have the option of highlighting other aspects of the results rather than the number of stars awarded, such as the best individual improvement."
Many HEIs use the Internationalisation Index as a tool, exactly as STINT had hoped. They contact the foundation to find out how the figures were calculated, discuss their results, and ask what they should do more of or in a better way.
"The Index has led a number of HEIs to change their internationalisation efforts. They also don't have access to all the data we use in the Index."
Dr. Pohl hopes that the Index will continue to be useful in discussing the internationalisation of Swedish HEIs. He also hopes that it will receive more media attention, and that its use will spread internationally.
"There is no direct equivalent elsewhere in the world. When I presented our index at the EduData Summit 2019 in London, vastly different countries such as Australia, Hungary and Oman expressed great interest. We would like to see similar indices in more countries, and we try to disseminate knowledge to get others to follow."
Text: Linda Swartz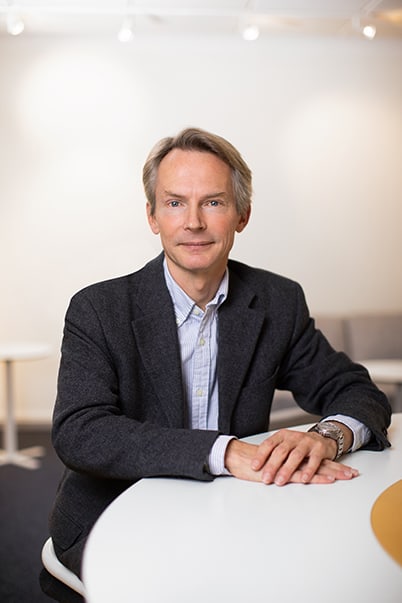 Dr Hans Pohl, Programme Director